HACH Activated Carbon Filter Box

Activated carbon filter box is an environmental protection product for purifying waste gases and absorbing smells
It can be deal with kinds of mixed wasted gas; also can remove the harmful gas of formaldehyde, benzene, TVOC sterilization deodorant. The off-gas can be passed the activated carbon filter box by positive pressure or negative pressure and the power of the fan


Specification
Features
Frame structure
Application
Model
Air flow (m3/h)
Fan whole pressure (pa)
Absorption Rate (%)
Box size(mm) (double stage filter、included fan)
Outlet size(mm)
Matched filter
Air intake
Air outlet
BACH-3000
3000
>700pa
65%~95%
700*700*1600 No access door,pull-out type
300*200
300*200
HACH-02870592292-4V/ 2 sets
BACH-16000
16000
1920*1300*1600 No access door,pull-out type
800*600
800*600
HACB-06100610292-4V/ 6 sets
BACH-6000
6000
1300*700*2400 Included access door
400*300
400*300
HACB-06100610292-4V/ 2 sets
BACH-12000
12000
1300*1300*2400 Included access door
500*400
500*400
HACB-06100610292-4V/ 4 sets
BACH-24000
24000
1920*1300*2400 Included access door
1000*800
1000*800
HACB-06100610292-5V/ 6 sets
◆ Activated carbon filter box is environment protection product which is purifying the waste gas, absorbing the smells;
◆ The absorbing efficiency is good, effect obviously, wide application, maintaining convenient;
◆ Can be deal with kinds of mixed wasted gas, can also remove the harmful gas of formaldehyde, benzene, TVOC and also sterilization and remove smell;
◆ The off-gas can be passed the activated carbon filter box by positive pressure or negative pressure and the power of fan;

As per different customer's request, filter box can be used the below type of filter, filter specification is as per the filter products instruction.
◆HACH V-bank Activated Charcoal Filter
◆HACF Activated Charcoal Flat Filter
◆HACB Activated Charcoal Filter Box
◆HACT Activated Charcoal Filter Cylinder
◆HACP Activated Charcoal Panel Filter
◆HACD Activated Charcoal Pocket Filter

Note:
1. In case of specifications,structure is changed; HEFIL will provide up-to-date data on website.
2. HEFIL makes various other models of BACH filter not listed the above table. Please consult with us if you need.
◆ 2 kinds of Filter box: air intake box, air outlet box;
◆ Filter box components: access door, fan, differential pressure gauge, frequency converter;
◆ Box is made of spraying plastic of color plate, stainless steel plate or cold-rolled steel sheet;
◆ Outlet size: standard confirmation is square (no size restriction), can be tailor-made as per customer's request;
◆ Air low can be customization;
◆ Filter box can be set single-stage, double-stage, multi-stage filter, single stage is only one stage filter, double or multi-stage filter is means that the front stage or back stage can be added to the primary, middle-efficiency dust removal filter as per customer's request.
Structure and installation instruction :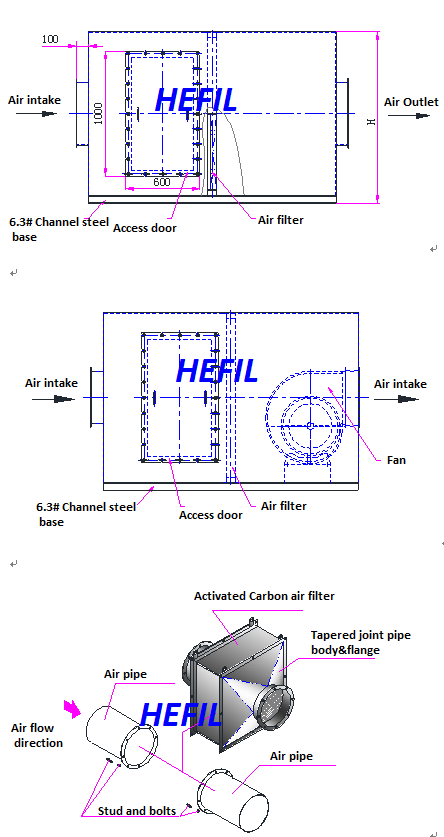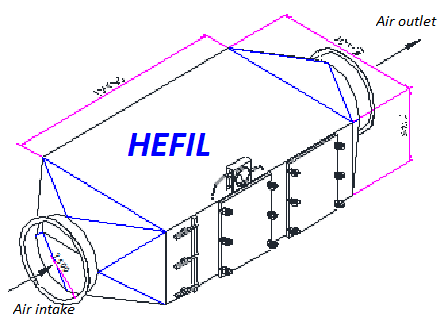 ◆It is applied widely in the waste gas treatment of the electronic components, battery (storage-battery) production, acid pickling, laboratory ventilation, metallurgy, chemical industry, pharmaceutical, and coating, food and brewing industries.


ga('send', 'event', 'button', 'click', 'submit order_button');